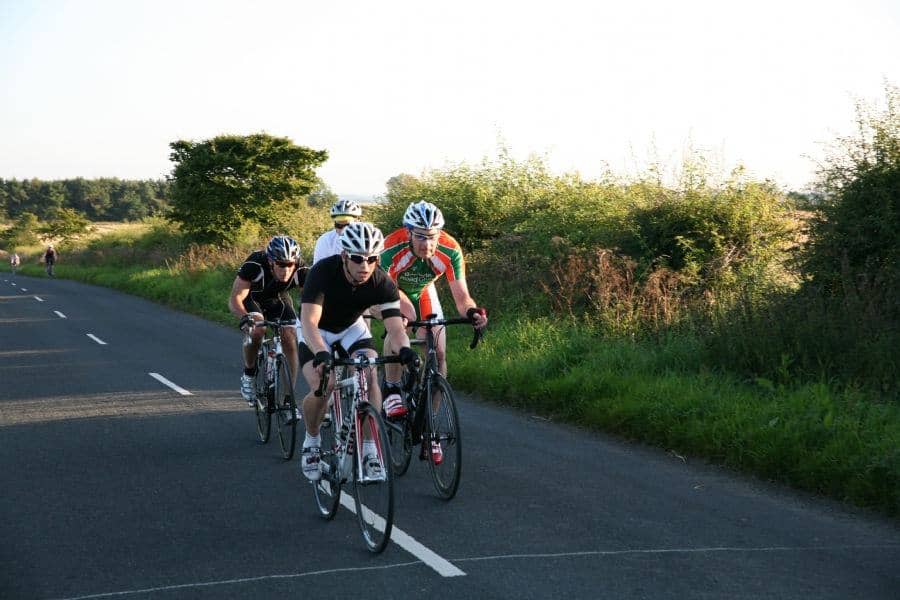 July 28, 2011 |  11years | General
The club confined RR was run off around the Tranwell Circuit on Wednesday 27th July on a fine summers evening. 20 intrepid competitors including 3 of the girls, some old lags and some virgins were placed into groups according to how fit/experienced they were and in some cases how much verbal backchat and feeble excuses given before the start.
The riders were set off at 2 minute intervals although some thought the watch had stopped between group departures. It was a very entertaining and competitive race with the four strongest riders in the scratch group eventually catching the front riders about 1 mile before the finish.
Nick Spencer launched a well timed sprint to win by about 5 lengths from Jon Bayley, Daniel Hopps, Martin Tilford and Paul Hague in that order with the rest of the field following up in ones and twos.
Special mention to two riders who last pinned on a number quite a few years ago but did not seem to have lost any of their power, namely Ian Mackie and Phil Kennell. Congratulations also must go out to the three girls who mixed it in with the boys.
1st Nick Spencer
2nd Jon Bayley
3rd Daniel Hopps
4th Martin Tilford
5th Paul Hague
6th Phil Kennell
7th Dave Jones
8th Tony Dawson
9th Ian Mackie
10th Jonathan Richardson
11th Lindy Edwards
12th Dave Ballantyne
13th Steven Kyffin
14th Simon Crisp
15th Asier De Quadra
16th Jim Shawcross
17th Ailsa Hall
18th Valerie Fortin
19th Stu Bruce
DNF Sam Kennedy