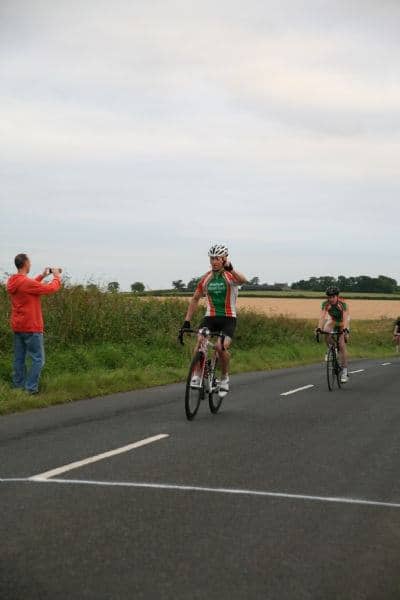 July 26, 2012 |  10years | General
The club ran it's confined Road Race on Wednesday 25th July having been rescheduled due to severe weather.
16 hardy souls lined up at 7pm to be put into handicap groups by the benevolant organiser, Peter. Of course those who said they were unfit or had never been out on a bike were immediately put back a group. The event started off with three groups split at 2 minute intervals and for the first half of the race it looked as though the front group may stay away.
However as the race progressed the scratch group started to ge themselves organised and by the start of the last lap most of the riders were together. Coming into the final sprint it was Nick Spencer who once again took the honours.
| | | |
| --- | --- | --- |
| Winner | Nick | Spencer |
| 2nd | Rob | Shields |
| 3rd | Ethan | Delaney |
| 4th | Jon | Bayley |
| 5th | Ian | Mackie |
| 6th | Shane | Dillon |
| 7th | Andy | Woods |
| 8th | Chris | Holliday |
| 9th | Simon | Crisp |
| 10th | Daniel | Hopps |
| 11th | Martin | Anderson |
| 12th | Lindy | Edwards |
| 13th | Graham | Findlater |
| 14th | Graeme | Dawson |
| 15th | Simon | Jewers |