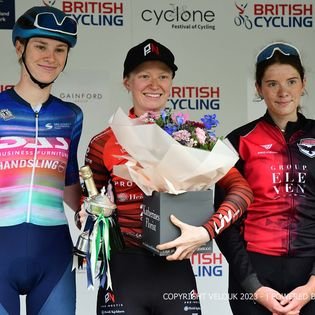 September 20, 2023 |  3months | General
A total of 73 riders took to the start line in Stamfordham for the 122.4km course that took on some challenging climbs along the way across three 40.8km laps.

However, the cool conditions seem to sedate the start of the race with no-one getting away in the first lap. Elidh Shaw (Alba Development Road Team) took the first Queen of the Mountains of the day; she would go on to take every QoM available on the day.

It took until the second lap for an attack to go clear with Ellen McDermott (Team Boompods) getting a gap of well over a minute going into the final lap, as the rain poured down onto the bunch.

Part way round the final lap, McDermott was briefly joined by another rider before being reeled in at the base of the last climb. After that the race was being controlled with almost a full peloton coming to the line.

Corinne Side opened up her sprint early and pulled out an impressive gap, which she held all the way to the line. Afterward she spoke of how surprised she was that she won as the race "didn't suit" her.

Behind Side the podium was completed by under-23 rider Emma Jeffers (DAS-Handsling) and junior Sophie Smith (Utmost IoM Junior Team) with two very impressive performances.