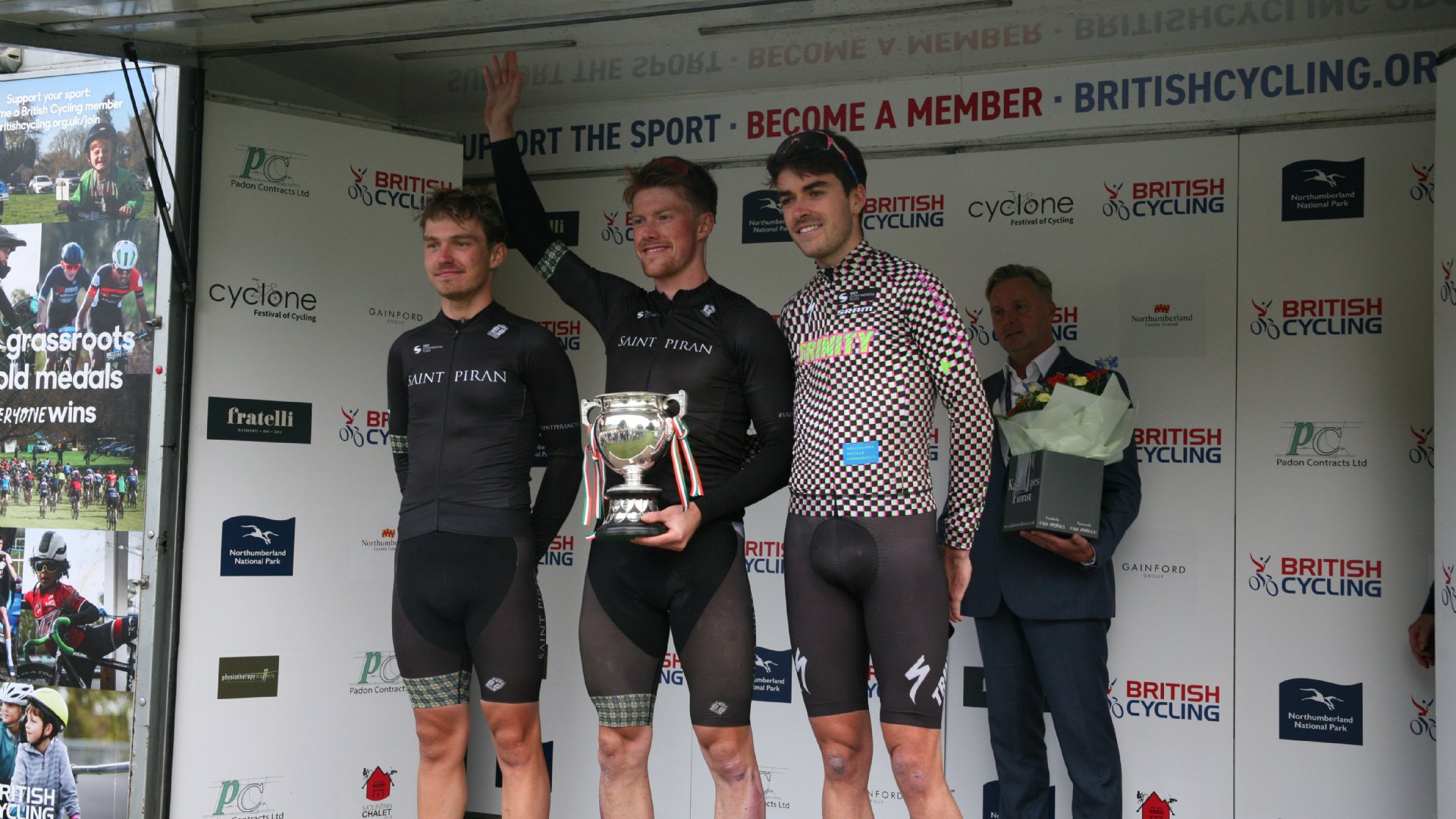 September 20, 2023 |  3months | General

Every men's National Road Series race this year has been dominated by one team; Saint Piran, having locked out the podium in the three races leading up to the Beaumont Trophy. They even took fourth and fifth as well at the Grasscrete Ryedale Grand Prix.

However, going into the race, the Saint Piran riders all seemed under the weather after a long season, with eight riders starting, to make up a field of 98 riders. TRINITY Racing's Finlay Pickering and Oliver Rees were late withdrawals on the day. The course was four laps of the large 40.8km circuit with one lap of the small 22km circuit to make the 185.2km route.

Immediately, attacks went off the front with a strong four-man group getting a gap of 1 minute 22 seconds after the first lap. Those riders were John Archibald (Huub-WattBike), William Truelove (ROKiT-SRCT), Tim Shoreman (Wheelbase-CabTech-Castelli) and Damien Clayton (Unattached).

Shoreman was soon distanced on the hilly course with the three riders pushing on. However, the gap dropped down to just 45 seconds as the pace was being hammered on in the bunch by Richardson-Trek-DAS.

The attacks from the peloton then came going into the third lap with TRINITY Racing sending two riders up in the break. This forced a new move with Lukas Nerurkar (TRINITY Racing), Max Walker (TRINITY Racing), Ed Morgan (Wales Racing Academy) and Joe Brookes (Halesowen A & CC) as well as Clayton, who was hanging on from the original break. They held a 47 second gap with one large lap and one small lap to go.

Heading into the final lap, the break had shattered. Walker and Nerurkar had kicked clear with Brookes, leaving Morgan and Clayton chasing at around 25 seconds distance and the now tiny bunch led by Saint Piran by 1 minute 30 seconds. It looked like it was going to be a win for someone other than Saint Piran.

However, the Cornish team had other ideas. On the 22km circuit they went all in for Crockett in the sprint. Even trying to take riders who were sitting on out of the back as they looked to complete the set of blocked-out podiums in the National Road Series.

The time gap was plummeting as Brookes was caught first after he was dropped by the TRINITY Racing duo. They then made the catch of Walker and Nerurkar inside the final 2km to set up a nail-biting finish.

The sprint was led out by defending champion Jack Rootkin-Gray (Saint Piran) with Crockett having to shout for him to slow down so he could take the win. Rootkin-Gray took second with Walker holding on for an impressive third after so long in the break.